Erin had never been to New Orleans, so we decided to go. That's it, that's the tweet.
The Mercantile Hotel
There was a temporary problem with our reservation at The Old No. 77 Hotel and Chandlery, so on our first night in New Orleans, we were put up in The Mercantile Hotel, which was located in the same area of the Warehouse District. We weren't there very long, but I did like that all of the rooms are suites and the living area came equipped with a record player and jazz records, which was a very cool touch. Our room was also equipped with a lizard, which we thought was also a very cool touch.
Ernst Cafe
It was around midnight by the time we dropped our luggage at the hotel, but we were determined to not waste a Friday night. When we asked the desk clerk for the nearest dive bar, she directed us to the Ernst Cafe, which was only a few blocks away. We were too late for food, but we grabbed a couple of drinks and a free contact high from our fellow patrons, who seem to have enthusiastically embraced Louisiana's recent decriminalization of small amounts of cannabis.
Willie's Chicken Shack
After a few restorative drinks, we walked to Canal Street, so that I could show Erin the layout of the area and hopefully stumble upon a late night restaurant. Even in New Orleans, proper restaurants close at a reasonable hour, but it's easy to find the ubiquitous Willie's Chicken Shack to take care of the late night munchies with genuinely delicious fried chicken and a 151-proof daiquiri. Photographers have a saying – the best camera is the one you have with you. The best fried chicken in New Orleans is the one you can still get in the middle of the night when you need it and that is Willie's.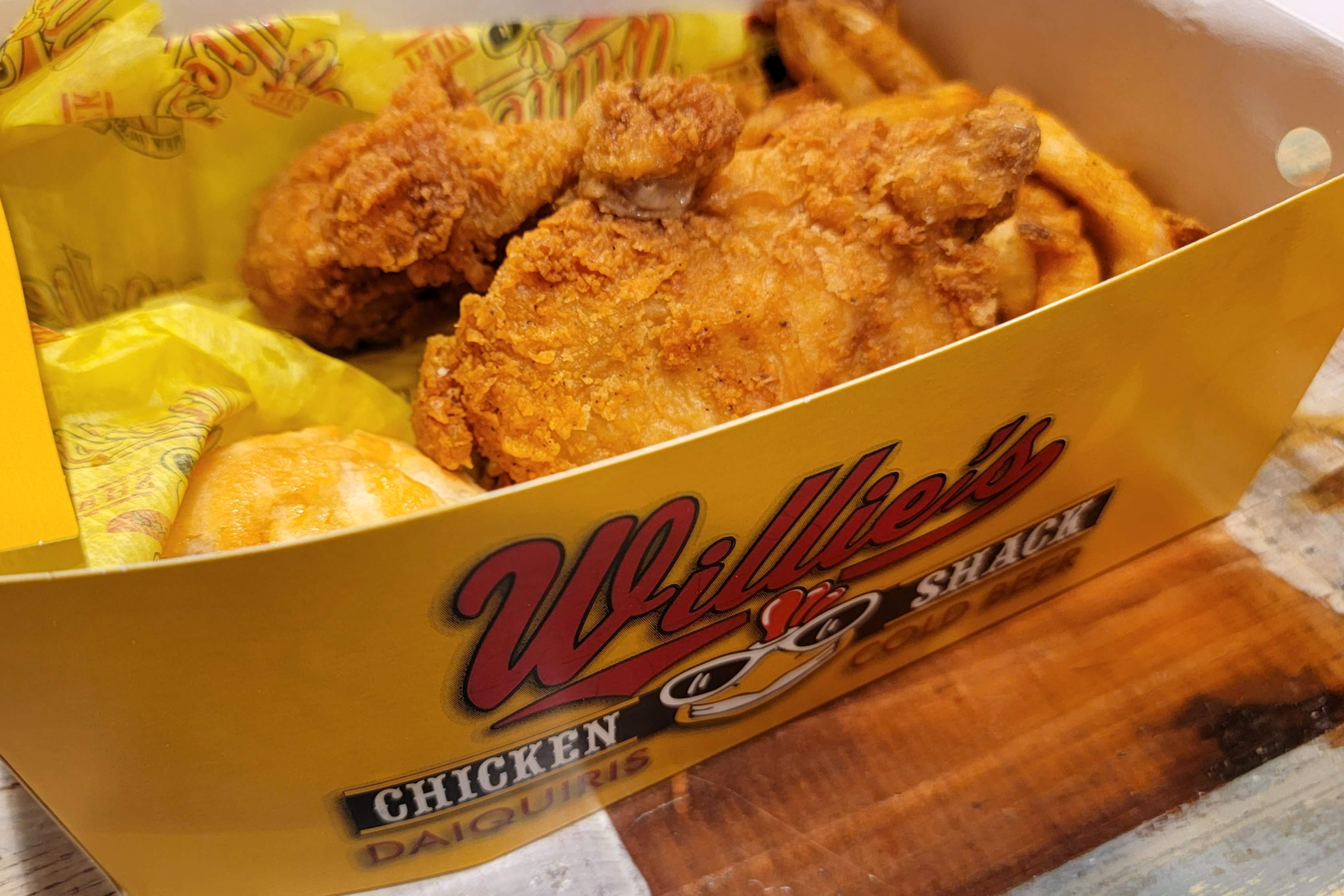 Bourbon Street
I have avoided Bourbon Street on my previous visits to New Orleans. To me, Bourbon Street, much like Austin's 6th Street, reeks of amateur hour. It also actually just reeks. On top of the literal tons of steaming garbage that has accumulated on the street from seafood restaurants and oyster bars throughout the French Quarter during the day, Bourbon Street, like Emeril sprinkling essence on a simmering dish, adds the additional eye-watering stench from the slurry of alcohol, weed, smoke, urine, and pools of vomit, where you will find many freshly-new adults laying unconscious, because they hadn't yet learned how to handle their liquor and couldn't find their friends or properly communicate to them that they were in distress. Bam! Amateur hour. But armed with our to-go daiquiris, a second wind, and a sense of adventure, we wandered into the madness.
Almost immediately, we passed an abandoned police observation tower that had been covered in graffiti and it was exactly the harbinger it appeared to be. We managed to sidestep most of the human detritus, but within ten minutes, we had been hustled out of $65. Good people shouldn't go to Bourbon Street. There are better places to go and there are even better places to get drunk. So we went to those places instead and left Bourbon Street to the rookies.
Cafe Beignet
The next morning, we stood in line for an hour to get beignets and café au laits (made with chicory coffee) from Cafe Beignet on Canal Street. It is one of the perfect food combinations and a perfect New Orleans breakfast. We also tried the same at the world famous Café Du Monde and at the Coffee & Beignet Co. inside the Renaissance Hotel, but Cafe Beignet was the best. My opinion was not in any way affected by Cafe Beignet's player piano playing jazzy versions of contemporary songs, including Enjoy the Silence by Depeche Mode.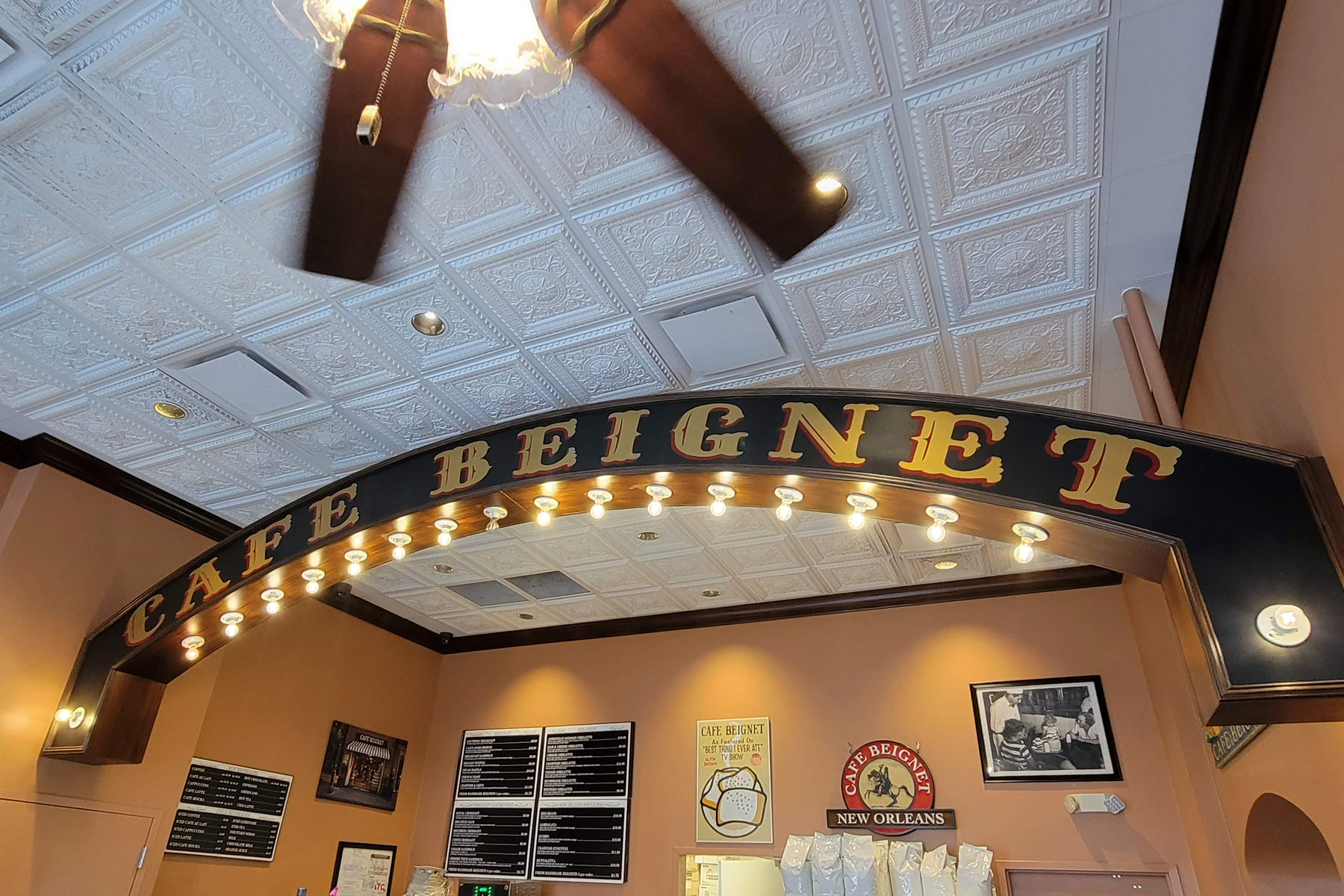 The French Quarter
After breakfast, we wandered into the French Quarter. The garbage and human bodies had been cleared away overnight and the historic district was back to being rustic, charming, and beautiful. Faulkner House Books only allowed four patrons at a time, so we had some cocktails and waited next door at Tony Seville's Pirate's Alley Café. Erin bought a couple of books for us and then after more walking, we were hot and tired, so we ducked into Bourbon Pub Parade for some air conditioning and cocktails. After our fill of drinks and dance music, we visited Voodoo Authentica and finally stopped by Johnny's Po-Boys for an authentic fried shrimp po-boy.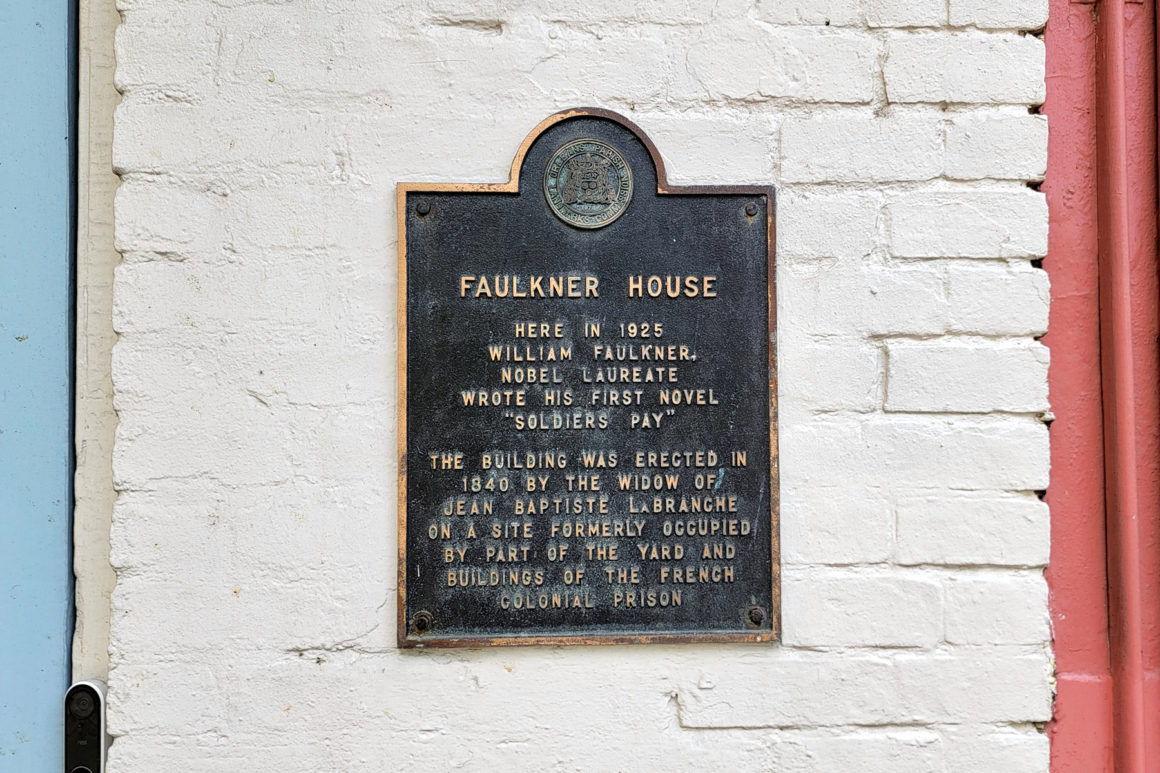 Old No. 77 Hotel & Chandlery
The Old No. 77 Hotel & Chandlery is a new (2015) and trendy, but not overly-fussy, boutique hotel in a restored coffee warehouse on Tchoupitoulas Street in the heart of the Warehouse District. We loved it, because it was located within walking distance of the French Quarter, while offering much to see and experience in its own neighborhood. It is also the location of the very well regarded restaurant Compère Lapin, though we did not take advantage of that on this trip.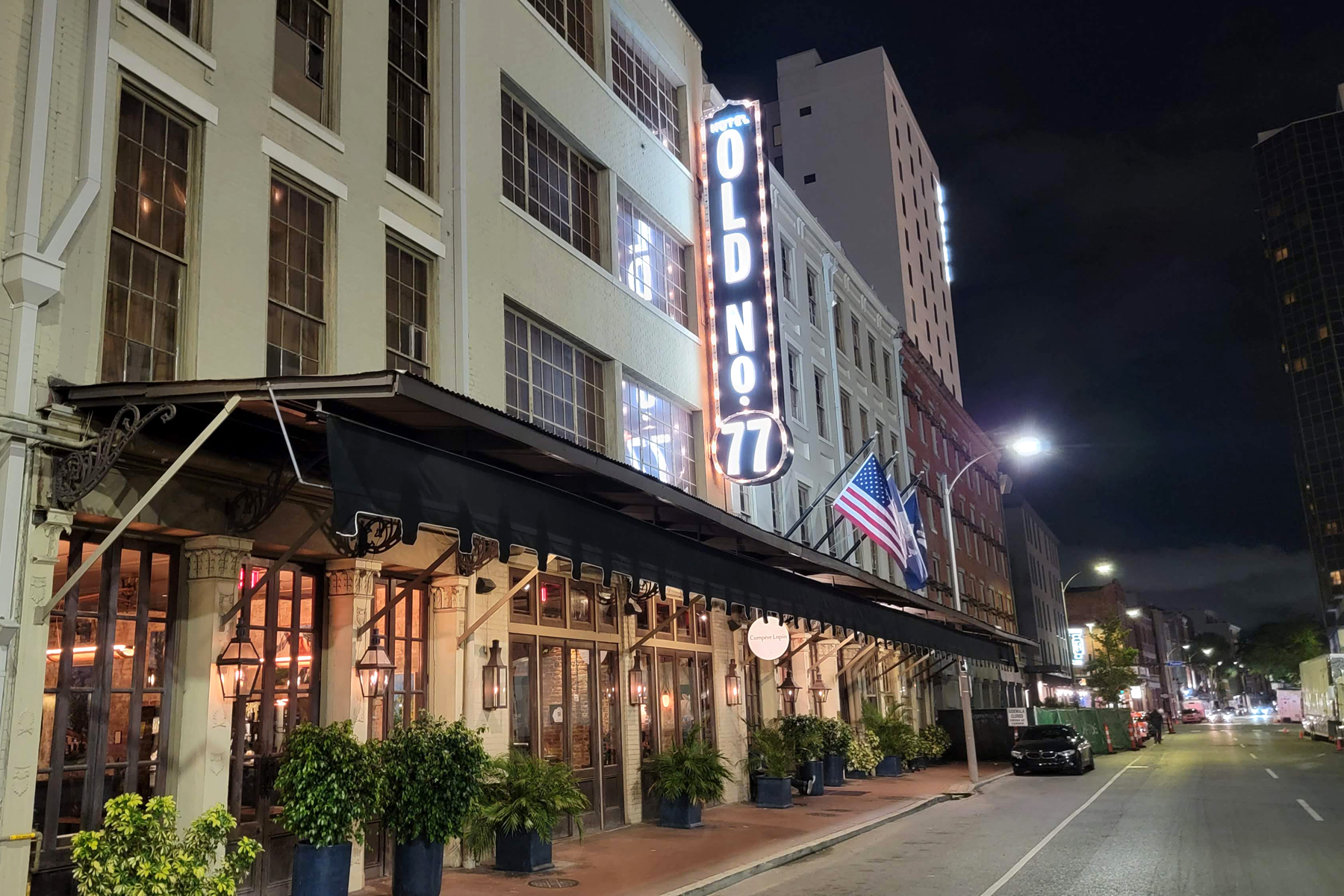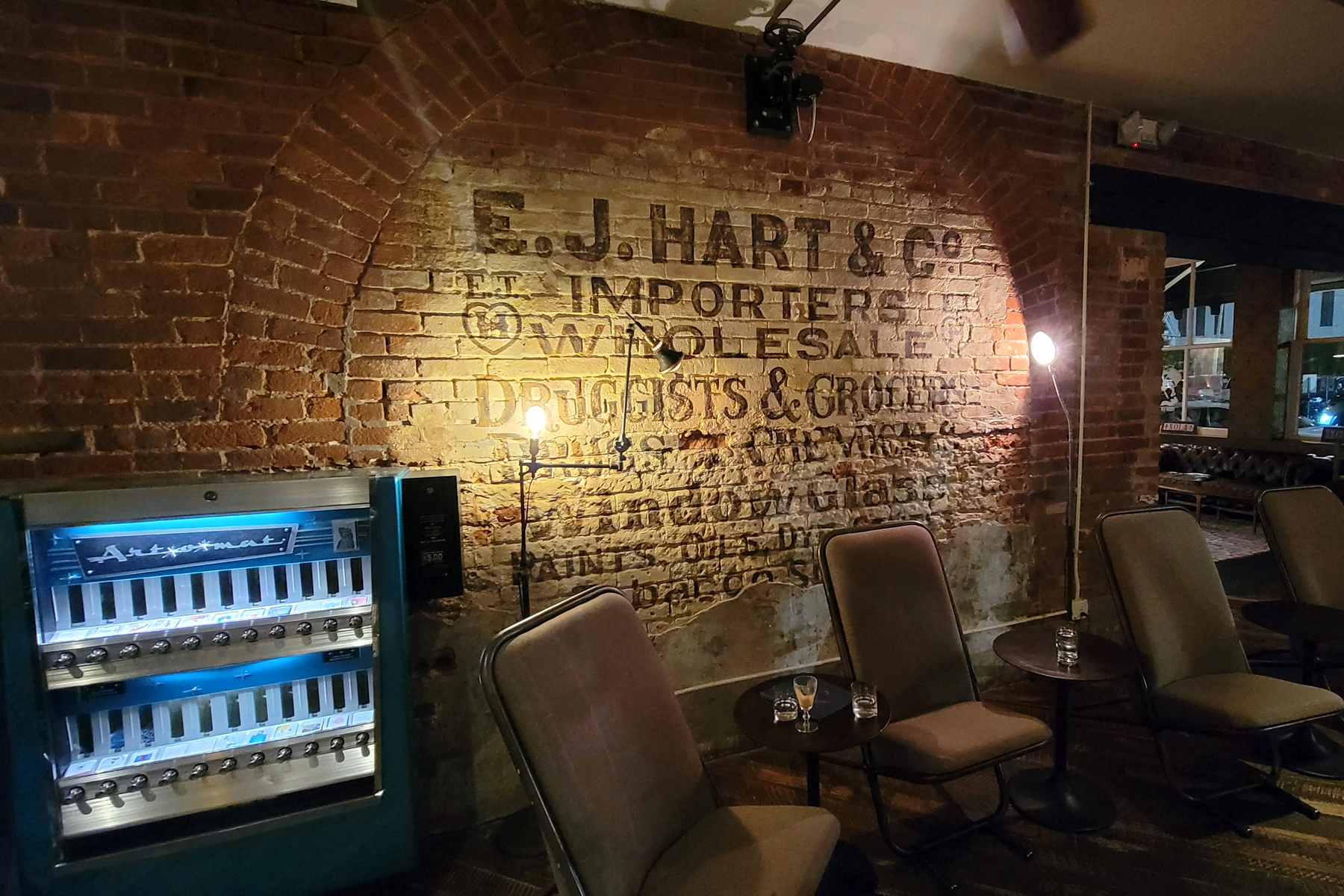 Cochon
Cochon was easily the highest rated and most well-regarded restaurant we sought-out this trip. Co-owners Donald Link and Stephen Stryjewski are both James Beard recognized chefs and Cochon itself was nominated as best new restaurant of 2007. The accolades never stopped and Cochon continues to find itself at the top of the lists of best restaurants in New Orleans and even in America. Anthony Bourdain has recommended it, as did my friend Ryan, who makes his own bacon and must certainly appreciate that Cochon makes all of their own bacon in house from locally-sourced pork. Oh, Cochon is French for pig. For dinner: fried boudin with mustard and pickled banana peppers, braised beef short rib, sweet potatoes, whipped feta, seed vinaigrette, and macaroni & cheese casserole.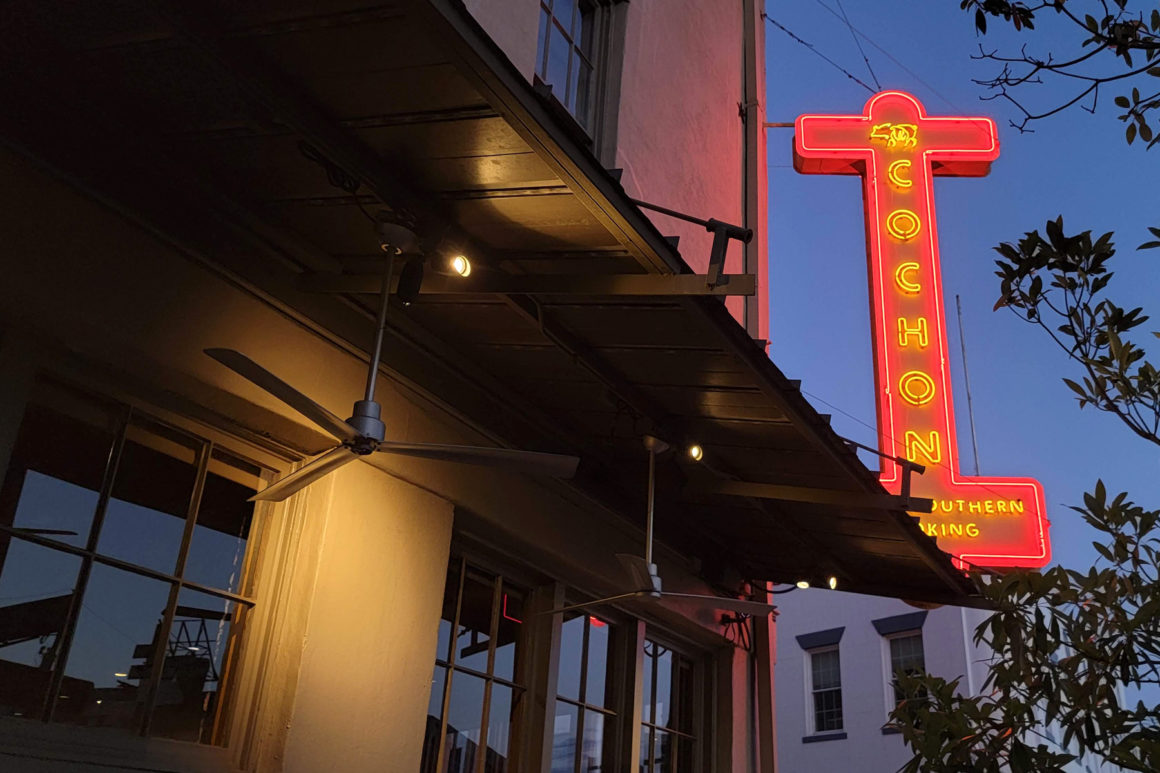 Peacock Room
Sunday brunch in New Orleans is a thing, so we left nothing to chance and made reservations at the Peacock Room in the Fontenot Hotel. I can be a real bougie bitch and this pushed all of those buttons for me in the very best way. Visually, the Peacock Room itself is absolutely stunning. Then they filled the beautiful visual space with the equally moving jazz compositions of a talented trio, led by Jelani Akil Bauman. For brunch, we had High Tea Punch for 2, the Peacock Tower (deviled eggs, lobster toast, salt & pepper shrimp, pimento cheese crostini), and Bread Pudding Pain Perdue (fig compote, brandy milk punch whipped cream). Exquisite taste in every way imaginable.
Cochon Butcher
On Sunday afternoon, we walked up the street to Cochon Butcher, which is Cochon's butcher and charcuterie shop located right around the corner from the main restaurant. It also happened to be right around the corner from our show, so we stopped by for a charcuterie board, crawfish au gratin, and a floral hibiscus-infused mule.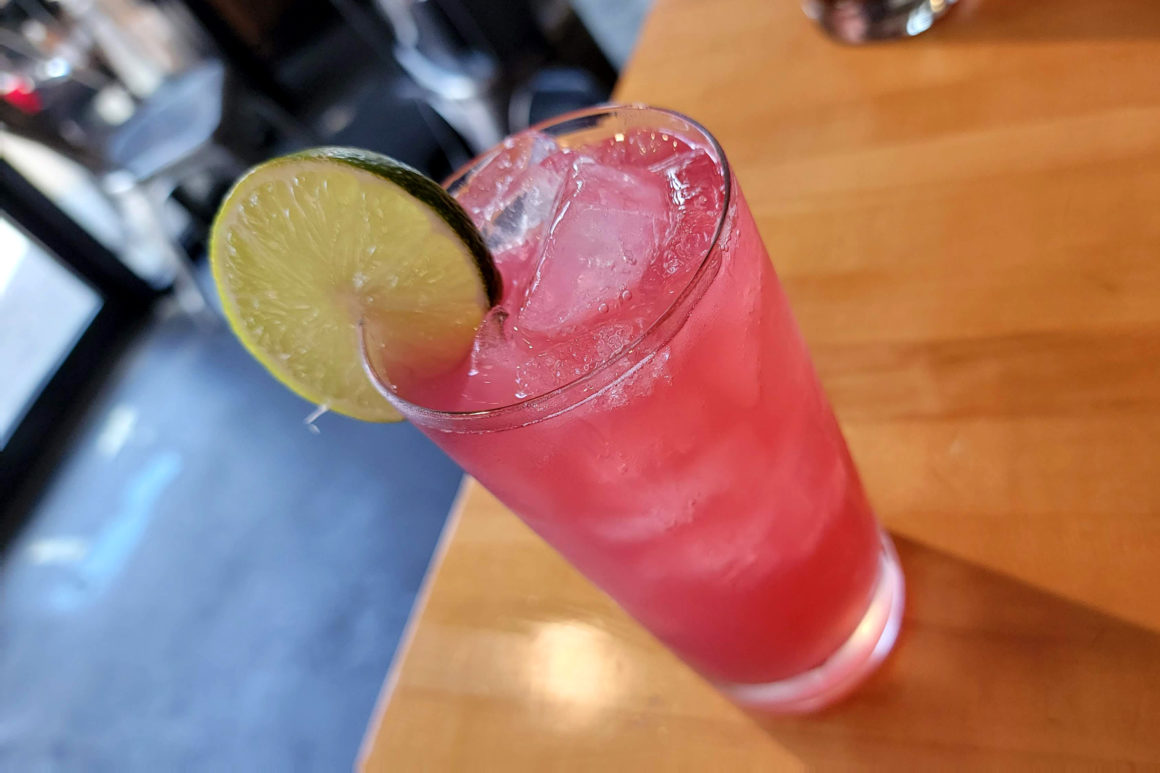 Minx Burlesque at The Howling Wolf
After Cochon Butcher, we walked around the corner to see the Minx Burlesque show at The Howling Wolf. The venue made it seem sketchy at first, but the show was wonderful and Trixie Minx is just the most funny and delightful person! And without further comment, a special nod to Vivacious Miss Audacious for swallowing a three-foot long balloon, which the audience seemed to really like for some reason. Probably a drug mule joke or something.
Lucy's Retired Surfers Bar & Restaurant
Lucy's is a neighborhood bar just a block from our hotel, so we found ourselves there on most nights. Sunday night was special though, as Erin insisted that I do a scorpion shot, which is exactly what it sounds like. After I took the shot, Erin declared, "You did it! You're no longer a bougie bitch!"
Café Du Monde, Piece of Meat Butcher
On Monday morning, we wandered down to the river walk and had beignets and chicory coffee at Café Du Monde. Then we decided to take a cab up to Mid-City in search of a very specific dish, the Boudin Egg Rolls, found at Piece of Meat Butcher and Restaurant. A Boudin Egg Roll is house-made boudin around a stick of pepper jack cheese, wrapped and deep fried in a wonton wrapper and served with sriracha aioli. I love boudin and this might have been the dish I was most looking forward to. I was not disappointed. It was fabulous!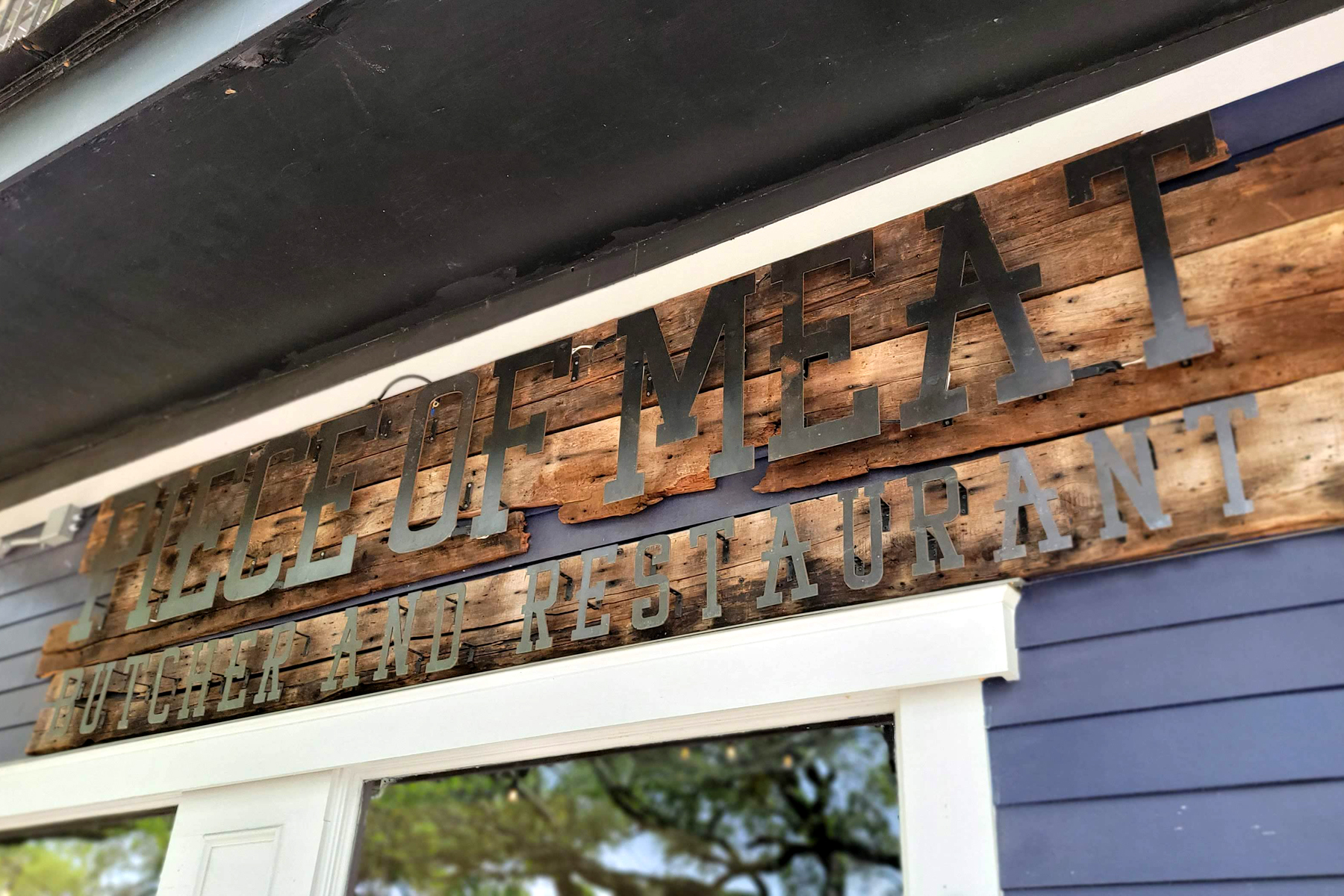 Neyow's Creole Café
After a break at the Bayou Beer Garden, a sweet old lady stopped us on the street and asked if she could help us find anything. We asked her if she could recommend a good place to eat. Without hesitation, she pointed across the street to Neyow's Creole Café.
We were in the mood for raw oysters, but they weren't available and it was just as well, because it was a Monday, which is the traditional day on which to have red beans & rice. So we shared an order along with their fried chicken, which was delicious. Neyow's is the real deal if you are looking for where the locals eat.
Royal House Oyster Bar
After riding back downtown on the streetcar and stopping by the hotel to nap off our lunch, we awoke still hungry for raw oysters. So we walked into the French Quarter and right past the popular Acme Oyster House and Felix's Restaurant & Oyster Bar, as the lines were interminably long. There was a shorter line on a prettier street at Royal House Oyster Bar, so we settled in. It gives me no pleasure to report that this restaurant was the only real disappointment of the trip.
Per our request, we were seated on the balcony, but it was very dirty, cramped, and leaned at a precarious angle. It was very uncomfortable, so we asked to be seated right inside in the upstairs dining room, which was uncrowded and airy. The server accommodated us without question and we were much more comfortable in the new space.
But then we ordered drinks and oysters from the mold-covered menu. The specialty cocktails came in plastic cups and the oysters were a disaster. They weren't shucked or cleaned properly, so they were gritty, and they weren't cut away from their shell. Despite being advertised as "… Served With All The Fixins (sic)" they only came with a very small cup of cocktail sauce and an even smaller cup of horseradish. There was no oyster fork, no lemons, and no crackers! I'm not exaggerating when I say that the amount of horseradish was only good for two oysters. I asked for another helping and got a dollop of horseradish even smaller than before! Erin and I love raw oysters and this was a terribly disappointing experience.
Molly's Bar on Toulouse
We were able to quickly put that bad experience behind us, because a friend of ours from the History Dweebs podcast Facebook group, Jeralyn Joslin, was down from South Carolina and in New Orleans with her boss, her boyfriend, and several other friends. We met them all at Molly's Bar on Toulouse, which turned out to be empty, except for our group. We had never met Jeralyn in person and of course she was wonderful, as were all of her friends. We had a delightful evening full of laughs!
Mother's Restaurant
We flew back home the next afternoon, but had just enough time to check out of the hotel and go by Mother's Restaurant and try the Famous Ferdi's Special, which is a po-boy with ham, roast beef, debris, and au jus. What's debris, you ask? Debris is all the delicious little roast beef pieces that fall into the pan when roasting in the oven. They accidentally gave us American cheese instead of Swiss, but this sandwich was still amazing!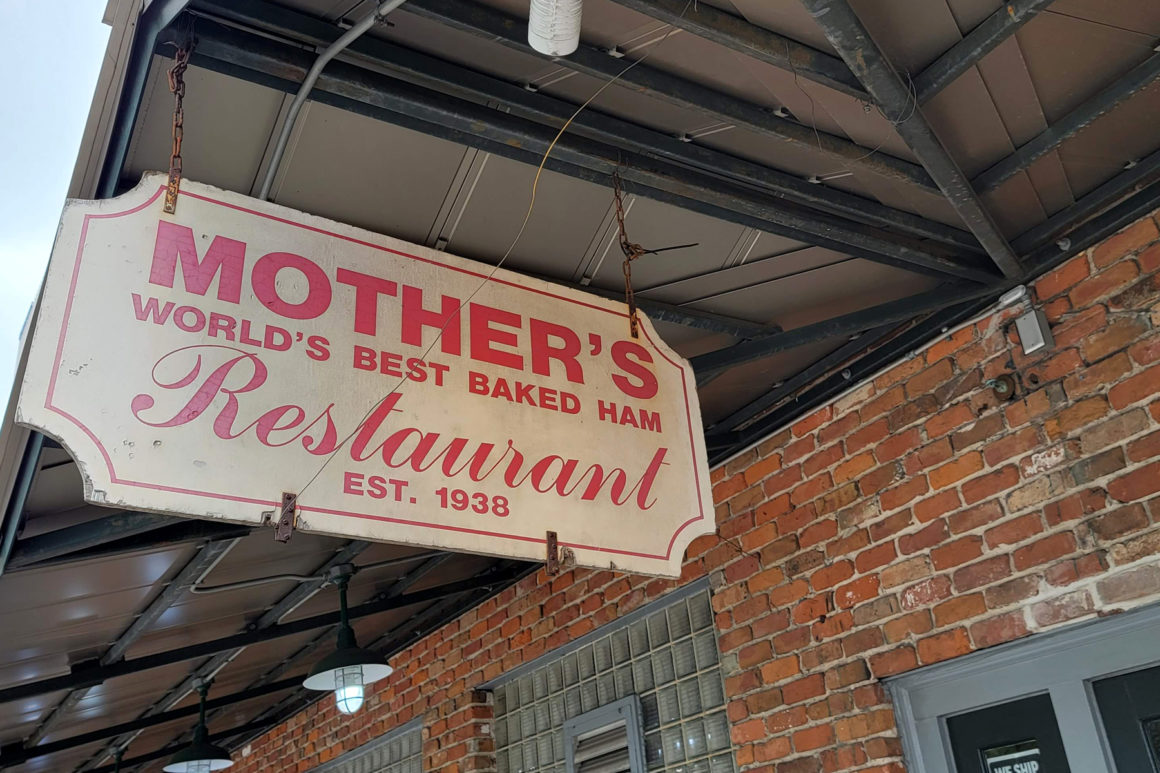 Bonus Duran Duran Content
The last time I was in New Orleans, it was primarily to see a Duran Duran concert, so the city and my favorite band will always have that connection with me. So imagine my tiny thrill at discovering that a mad and mysterious Duranie was going around and tagging the city with Duran Duran stickers! I found three in less than 24 hours: one was on the outside of a building on Tchoupitoulas Street, one was in Molly's Bar, and one was on the window at Mother's Restaurant.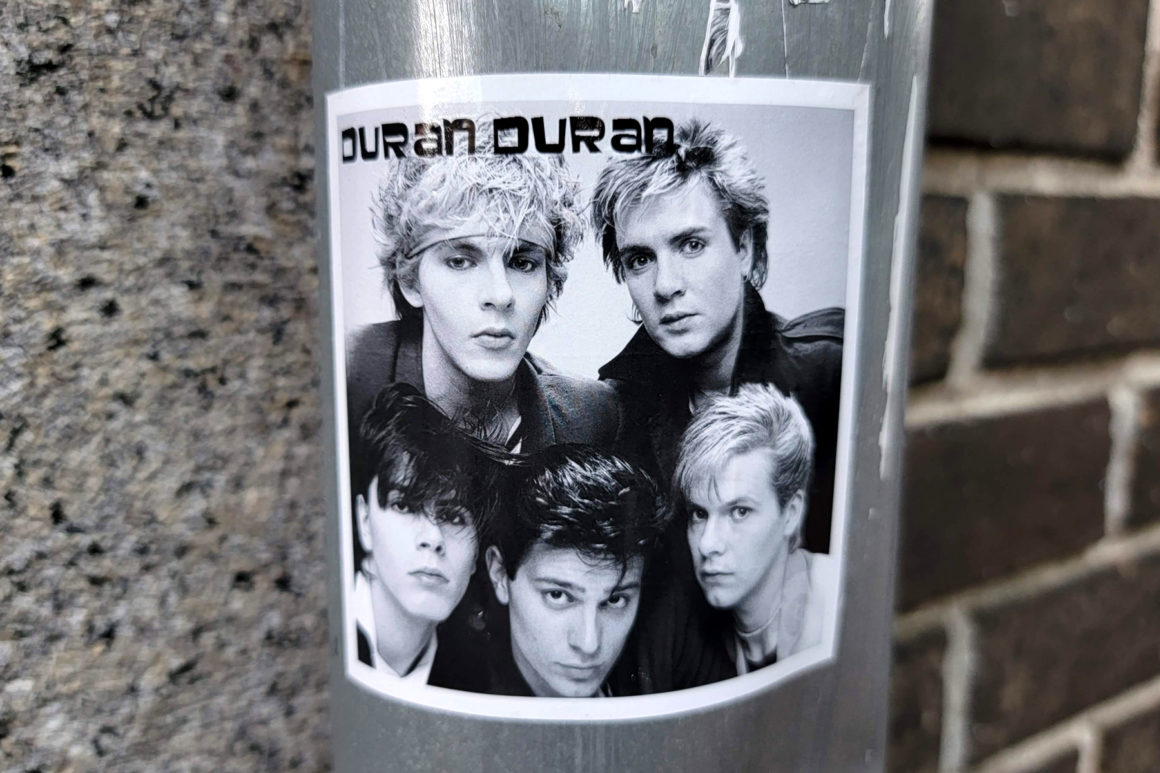 Check out that last visit:
Next Time: Acme Oyster Bar, Antoine's, Boucherie, The Crab Trap, Creole Queen Riverboat, Dooky Chase, French 75 Bar, Jacques-Imo's, Maple Leaf Bar to see The Rebirth Brass Band, R Bar, R&O (for the roast beef po-boy), Sazerac Bar in the Roosevelt Hotel, The Sazerac House, Snake and Jake's, and the Tacaux Locaux food truck.
Please pin, tweet, and share! Most importantly, let me know what you think in the comments below.