On Saturday night, Mrs. Pribble and I walked into the Old San Francisco Steak House, her for the first time and both of us for the last. The Old San Francisco Steak House (OSF) had been bought and would close its doors forever on Sunday, after 25 years in business. Remarkably, except for some very small details, everything was as I had left it. The décor was exactly the same, down to the period artifacts and artwork, dominated by the huge portrait of Gussie Lee (the legendary inspiration for the restaurant), all designed to evoke the Gay Nineties. The creaking of the brass-handled front doors, first the outer and then the inner, reminded me of a time when those sounds would cue my service to new dinner guests.
Our own fellow dinner guest and OSF alumnus, Mat Farabee, hadn't arrived yet, so we stood back and watched the manager at the helm of the slowly sinking ship. As happens so often in these sad situations, formality had broken-down and the employees joined the customers as bystanders to an event outside of their control. The manager, who wasn't wearing any kind of uniform whatsoever (a far cry from the days when my boss and I would man the reservation desk in tuxedos), openly commiserated with the guests waiting in the lobby. She had moved from Dallas for the job just a year before and couldn't help the frustration creep into her voice when talking about uprooting herself for what was probably then an already doomed business. The end came so quickly and without warning, that our waiter had been hired only three weeks before. I was also startled to hear the manager explain the fate of the other OSF locations. I had just been to the OSF website and it still showed three locations and another coming soon. I figured the Austin location closing was a unique case, but I was wrong. The Houston location closed a year ago to make way for a Super Target, the Dallas location closed early this year to become a strip club, and the Austin and San Antonio locations would be closing on the same day. OSF really was over. If Mat didn't hurry, our dinner plans would be over, too. Every few minutes, somebody would come from the kitchen and announce what food they had run out of and the manager would add it to the long list on a whiteboard they had set up in the lobby. Cuts of meat were starting to show up on the list – surely a bad sign.
While we were waiting, in swished Bernice, the only employee who had been at the Austin location since day one and only one of two remaining employees from my days back in the eighties. Bernice was in her hostess outfit, a long black satin dress and white feather boa, looking like an older Miss Kitty from Gunsmoke. She had let her red hair go pure white, but otherwise looked exactly the same. We greeted each other and promised to catch-up later in the evening. Mat finally arrived and we were seated.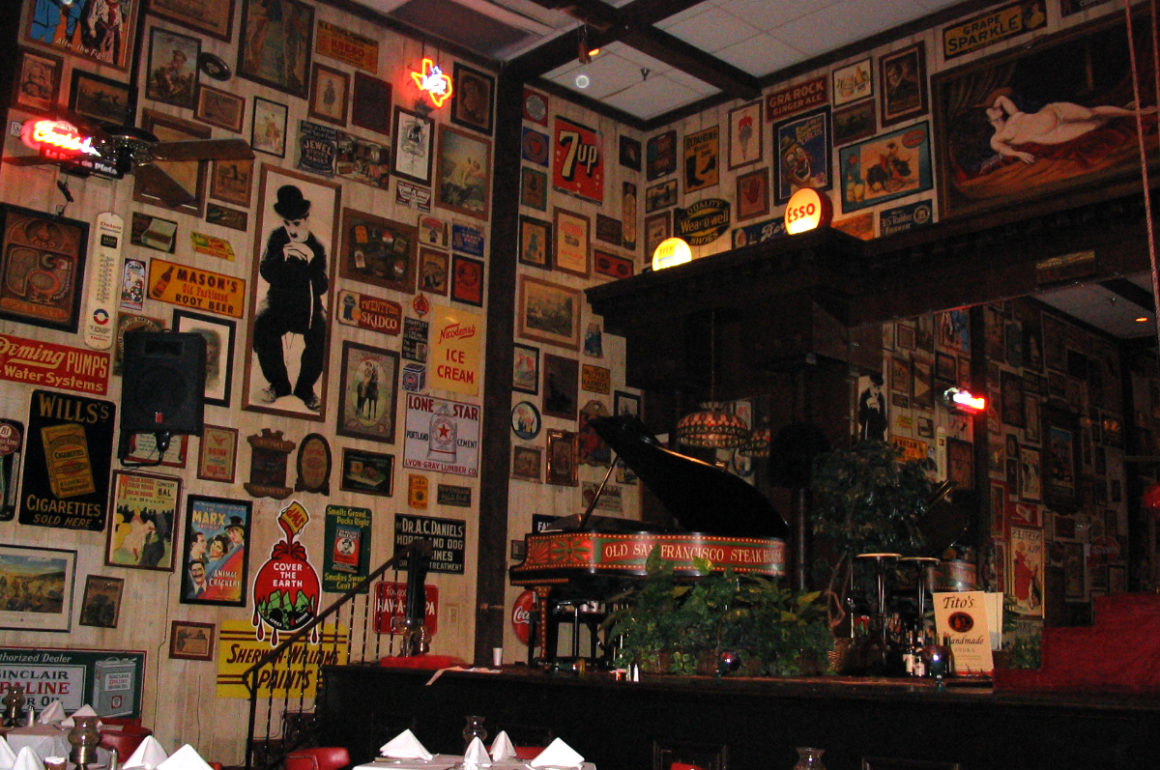 The main dining room (or "red room" as we used to call it) and the green room also looked almost exactly as I remembered. The red room is two stories tall and the walls covered floor to ceiling with kitschy period advertisements, signs, and other memorabilia, with a bison head and two or three steer heads mounted for good measure. The room is otherwise dominated by a full-length bar across the front of the room, on which is a piano (there used to be two) and hanging above it all – the red velvet swing. Every hour or so, a "swinger" dressed in a burlesque-style little red dress, fishnet stockings, and garter belt, would entertain guests by swinging higher and higher to the piano accompaniment of ragtime music, until she reached the top of her two story arc, the music would crescendo, and she would kick a cowbell mounted to the ceiling to the delight of all. I scoffed at the red velvet swing now being equipped with a seatbelt, but both swingers of the evening performed well, even to the mostly empty room.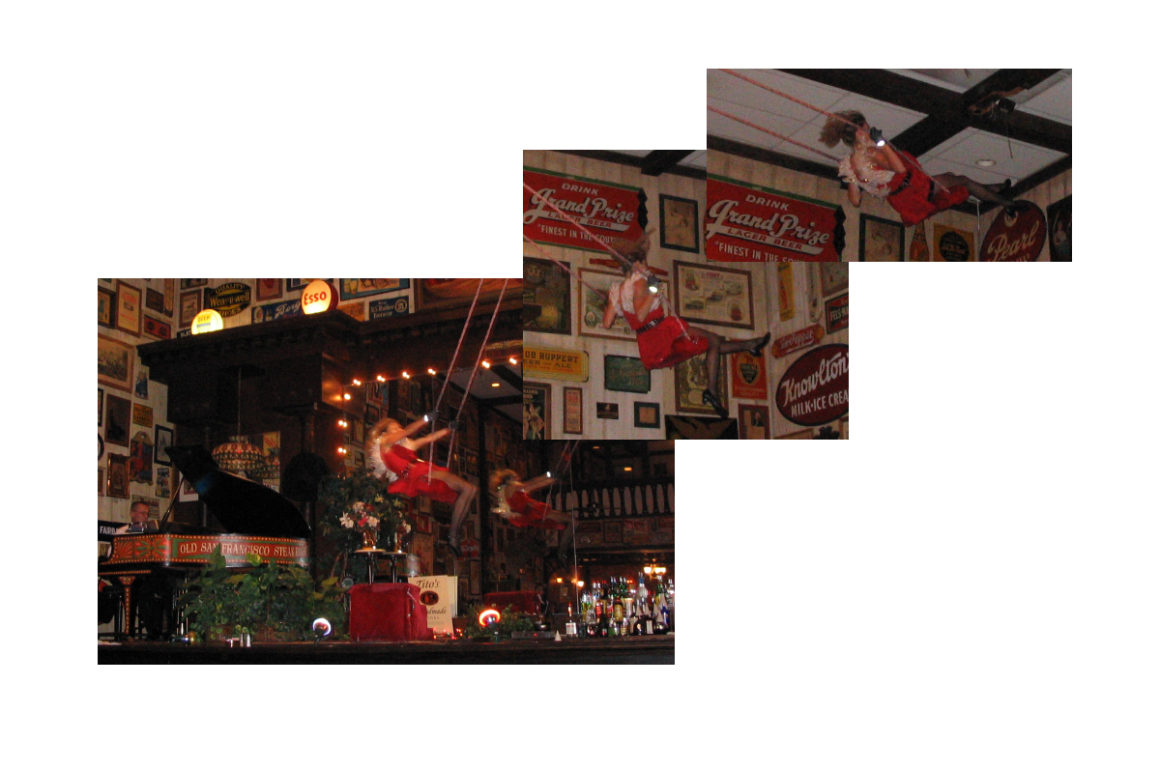 We had an 8 o'clock reservation and were sat around 8:30. Our waiter informed us that they were out of T-bones. I told him that he should consult the list in the lobby, because they were out of much more than that. He scurried off to catch-up on the latest bad news, while I wondered how long OSF had been using waiters. In my day, despite the illegality of it, the OSF only hired waitresses. That was why waiting tables at OSF was the one job that I hadn't done. I had been a busboy, food expo guy, dishwasher, valet, line-cook, salad/dessert prep cook, flambé cook, bartender, and host. I even mowed the grass a few times and one time another busboy and I spent our day stealing huge chunks of limestone from a construction site to use for the OSF landscaping. But I never waited on a table. Speaking of waitresses, I also noticed that the uniforms had changed. The waitresses used to wear basically the same outfit as a swinger: low-cut little black dresses, fishnet stockings, black shoes and a garter belt. At some point (perhaps with the arrival of waiters), this had been replaced with black pants, white shirt and a vest. Sigh. I understand, I really do. But you must understand that to a 15 year old boy, watching waitresses (mostly college girls) in those uniforms made working at OSF one of the best jobs I… er, I mean he could ever have. Mat seconded this notion adding that standing at his station at the end of the bar, watching the pretty swingers twirl over his head and waiting for a flambé order so that he could go and set stuff on fire, really was the best.
A busboy delivered the traditional block of Swiss cheese and a small loaf of bread. The block of cheese was smallish, but that was sometimes the case even back in my day, and considering their diminishing food supply, I actually expected worse. What was more interesting was the fact that the block didn't come on a cutting board, but sat directly on part of the thick red wax covering that hadn't been cut away from the cheese. Swiss cheese doesn't have a rind and therefore, isn't generally packaged in a wax covering, but rather vacuum sealed in plastic. Specifically, the Swiss cheese that we served in the past came in huge blocks (100 lbs.?), vacuum sealed in plastic, that we then cut down to six blocks (almost a foot on each side) to serve to customers. So, it appeared that we were being served a different cheese, or at least a cheese from a different supplier. I piled paper-thin slices of the Swiss on my bread plate and was soon relieved to find that it tasted exactly the same as I remembered. It was delicious!
We told the waiter that we would like to place our dinner order quickly in the hopes that we would be able to get what we wanted. He said there shouldn't be a problem, because they had just closed the restaurant and wouldn't have any more customers that night. It wasn't even 9 o'clock. They would normally be open until 11pm. In fact, by the time the 9 o'clock swing finished, there were maybe only four other tables in the restaurant, so there was really nobody left to deplete any more food. Sure enough, everything that we wanted to order was available.
Our house salads arrived. The chilled fork presentation was a nice new touch, but the salads were smaller than the hearty servings I used to prepare and the house dressing, a creamy Italian with grated Swiss cheese, was quite a disappointment. In the past, finely grated Swiss cheese was mixed into the dressing, properly infusing the dressing with the Swiss flavor. This appeared to be regular creamy Italian dressing poured over Swiss cheese that had been coarsely grated over the salad. Worse, the dressing itself was not very good and overall the salad was a watery, goopy mess.
The poor salad was immediately forgotten, as soon as our steaks arrived. Except for being plated with the fat side out towards the customer (a presentation no-no), my 16 oz. prime rib was perfect. It was big, bloody, and beautiful. In the 20+ years since I have worked at the OSF, I have found myself constantly disappointed when ordering prime rib (always rare to medium-rare) from other restaurants and having a grilled steak served to me. This is an excerpt from a wonderfully impassioned letter written by Mick Vann, contributor to the Food section of the Austin Chronicle. His description of how prime rib should be cooked is exactly how OSF did it. His disappointment in how "prime rib" is now cooked and served is exactly what I have found, as well:
The steak was served with a baked potato, a ramekin each of au jus and horseradish sauce, and two sprigs of broccoli that were really more of a Texas-sized garnish than a side of veggies. I noted that the potato was no longer rosin baked, which was a method of cooking the potatoes by dunking them in a boiling vat of rosin, a thick, syrupy substance made from pine sap. The potatoes would be pulled from the vat, immediately wrapped in brown paper and served. The idea was that this method of cooking prevented the moisture loss from oven baking. I have also heard it said that the process imparts a unique flavor to the potato, though I have never thought so. While it was sad to see another unique aspect of the OSF gone, the truth is that I never preferred potatoes cooked that way because the process rendered the potato skin inedible. My baked potato was good, but the waiter didn't mix the butter and sour cream into it enough and it all melted out onto my plate in a buttery, goopy mess.
But I couldn't be bothered with the state of my salad or baked potato. I was there for the memories and for the steak. My prime rib was all that I had dreamt it would be. It was tender, juicy, and delicious. Mrs. Pribble agreed that her prime rib was good as well and also gave high marks to the garlic mashed potatoes. This is what Mat had to say about his meal:
I'm sorry that Mat didn't enjoy his meal as much as Mrs. Pribble or myself, but he didn't make a fuss. This was probably because there wasn't time to complain between the recounting of story after story of our time working at OSF. Some were well worn and often told stories, but some were new memories helped along by just being there. Pam, the other employee who had been there since the beginning, also helped out by sharing with us her memories, starting with our drinks. Mat and I knew that we wanted a souvenir glass to take away with us. In our day, to get a souvenir glass, you had to order the house special, which was some flaming frou-frou drink. The menu now showed a dozen different drinks that qualified for the souvenir glass, but none of them sounded like the old special and none of them seemed to involve fire. I caught-up with Pam at the bar and she reminded me that the drink was called "The Swinger" (duh, Jimmy) and though it was no longer on the menu, they could whip up a couple, no problem. No longer on the menu? How could that be? When the waiter arrived with the drinks, he offered a clue while lighting the drinks, "Now I have been told that if you let these burn too long, the glass could shatter." So that was it. Like the seatbelt on the swing, the end of rosin baked potatoes (later confirmed to be at the hand of the fire marshal), and the removal of the house specialty drink from the menu, OSF had eroded the essence of their unique personality, of their very character, just to keep glasses of flaming alcohol from exploding in a few faces. That's just sad.
Speaking of sad, by the 10 o'clock swing, there were maybe three tables, including ours. I took photos of the last swing performance in Austin and we did our best to cheer her on. Part of me wished that the restaurant would have been packed to the rafters for its last Saturday night. I mean, I had seen Saturday nights with 800-900 covers! I had seen the lobby and bar packed for hours with people waiting for a table. I had seen the valets double-park the whole lot and then park cars down the street. But those days were long, long ago and instead, it all ended quietly. Bernice, Pam and a few of the other employees got up on the bar for group photos. One of the swingers asked me to photograph her on the swing.
We realized that the piano player was also the flambé cook, so we rushed to order our dessert before he was cut loose. Tableside flambé service had long ago been done away with (again, in the interest of safety) and a permanent flambé station had been built. I was told they didn't have the Cherries Jubilee, so Mrs. Pribble and I shared an order of Strawberries Flambé and Mat ordered the Bananas Foster. One of the downsides of having these desserts prepared away from the table is that they can still only be prepared one at a time, yet the waiter is likely to want to serve the whole table at once. So, our Strawberries Flambé was cooked first and by the time it got to us, it had mostly melted into a creamy, goopy mess. Sigh. Still, it was tasty. Mat, who had chatted it up with the piano player while the flambés were being cooked, shared with me the recipe changes that had occurred since when we had learned to flambé. I can't say that I agreed with any of them. Since when does orange liqueur take the place of fresh juice squeezed from an orange?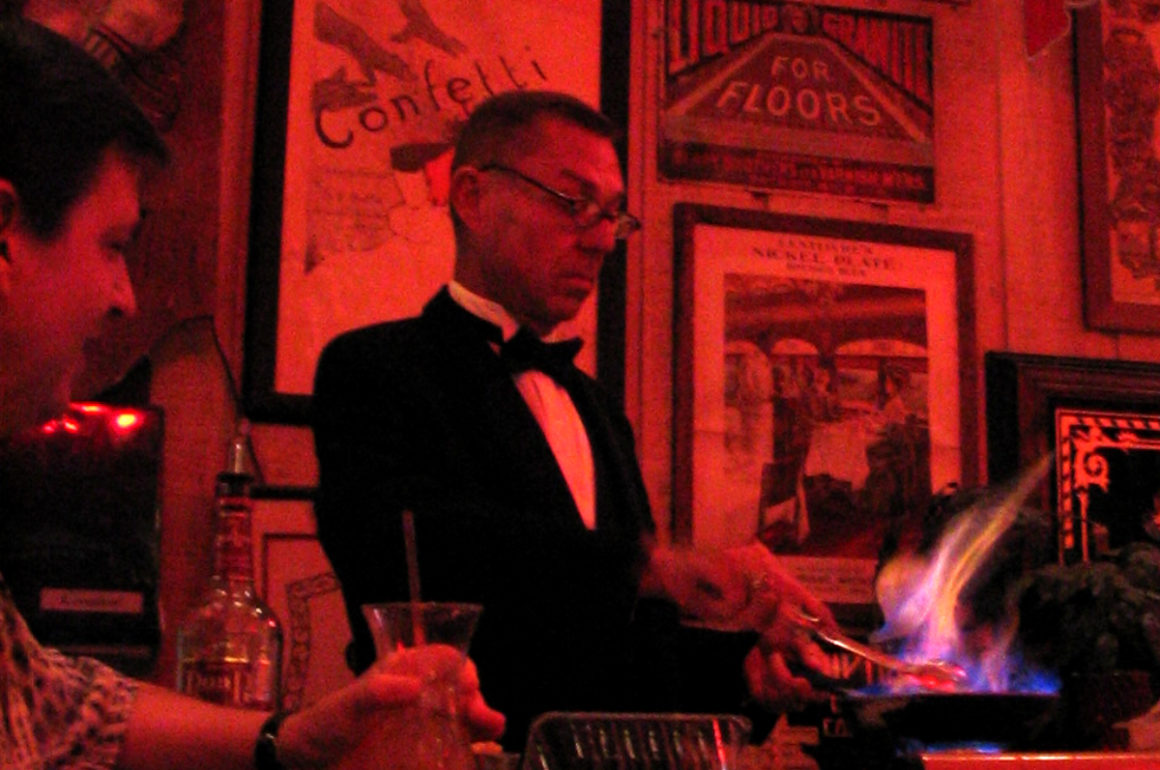 After dessert, I had a chance to visit and reminisce with Bernice and Pam. The names and memories poured out of us: Bob Van Hattum, Tim, Les, Clint (the Vans-wearing bartender who went off to stunt man school in Hollywood and was killed in an airplane accident), Larry the mumbler, Irene and her sister, Becky and her sister, big Becky (Ford EXP), Rebecca (Boo) and Quita, Lynn, Blue, Simon and Jeff (the stoner busboys), Jeff Rasmussen, Jeff Holden, Lori (Planet X), Laurie, Brenda and Tony, Cathi Ball, Judith, Misty, the expo guy on speed, Carlos, the white busboys, the breakdancing busboys, the Mexican busboys, Edwardo, Ed Mancuso, the Anderson twins, John Anderson, and my close friends – Mat Farabee, Charles Braden, Wes Mau, and Rob Booth. These names were still only scratching the surface. Besides, every name unpacks even more memories of not only things we did at the steak house, but things we did outside the steak house as well. Somehow, I feel like I packed a lifetime of memories into barely four years. I'll have to talk more about those some other time.
Bernice and Pam also knew where a lot of people were and how they were doing. They said a lot of folks had come back when they heard the OSF was going to close. A lot of swingers came back to swing one last time. That was comforting to hear. Even better was hearing about all of the couples who met at the OSF and were still together: Jim and Cheri, Kevin and Sherrie, Rob and Michelle, and several others. Somehow, between all the sex, drugs, and rock & roll (and there was a lot of that), there was true, lasting romance to be found there. Pam said the best thing to me, though. After we had talked for a long time, she said, "I have been here all along, so I can tell you that you're not mistaken – those were the good old days. It has never been better."
We had been the only table for a couple of hours. It was almost one o'clock in the morning. The piano player was gone and canned music played through the PA. Our waiter had long since gone home, but Pam kept our water glasses full and they left the lights down for us. Usually, they gave customers a brand new souvenir glass, but they had run out and so our actual glasses were boxed up, sugar still on the rims. Pam offered us a beautiful chocolate cake, but we were full. Then she gave us copies of a book, The Legend of Gussie Lee, which had been published in 2000. The few staff remaining were quietly closing out tickets and counting their cash. I felt myself unwilling to stand up from the table. I was looking for any way to stall. But finally, there was nothing else and with a deep sigh, I stood. My wife wanted me to blow out the candle on the table, but it was too Tennessee Williams for me and I would have none of it. I hugged Pam one last time and we walked out under the Hurry Slowly sign over the front door. The doors creaked, first the inner, then the outer.
Please pin, tweet, and share! Most importantly, let me know what you think in the comments below, especially if you have ever worked at the OSF at any time and in any location! I want to hear about your memories! If you have pictures of the OSF from the 80's, please send them to me!